---
SPECIFICATIONS
Voltage: 110/220V±15%, 50/60Hz
Protection Degree: IP21S
Product Dimensions: 8 x 16.9 x 12.4 in
Origin: Mainland China
Model: CT520D
Max Cut Thickness: 0.4" / 10 mm
Gas Supply: Clean, Dry, Oil-free Argon Gas
Efficiency: 85%
Duty cycle Cut: 60%@50A, 100%@40A
Certification: CE

Product Description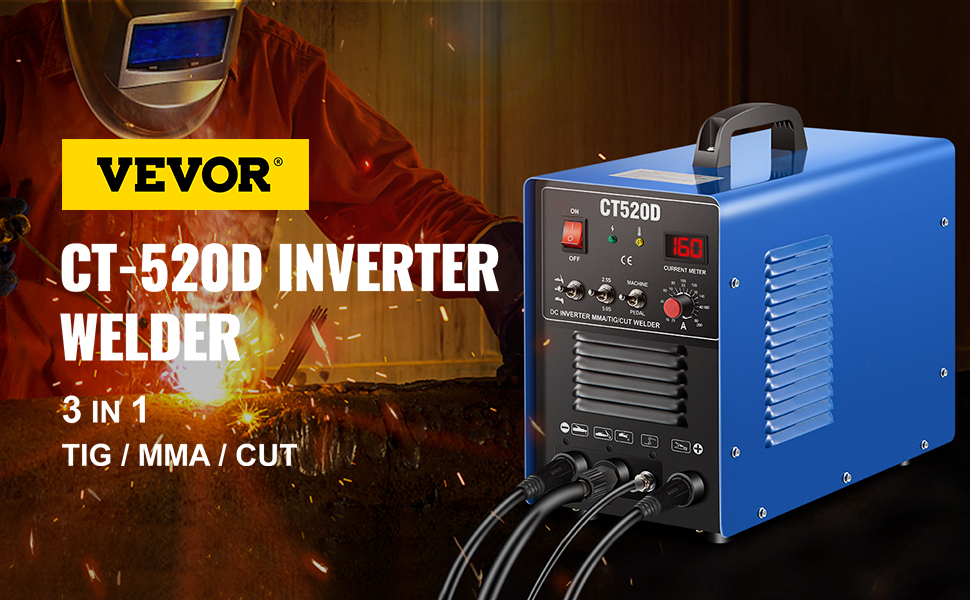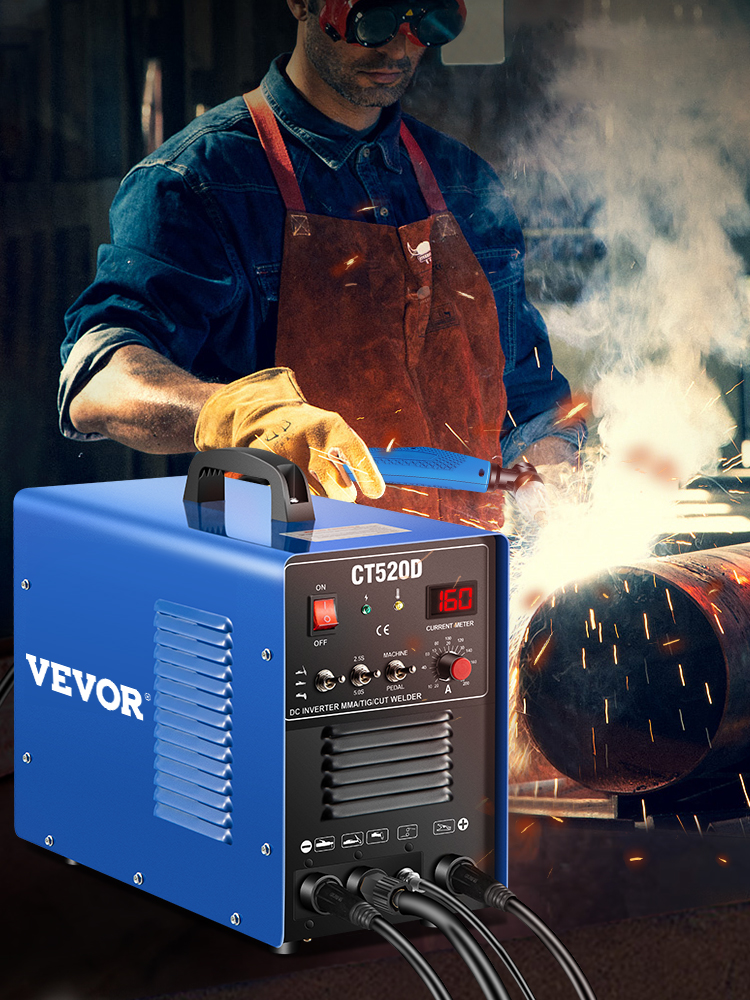 CT-520D 3 In 1 Inverter Welder
Three Modes & IGBT Technology & Easy to Use
Multifunction 3-in-1 CUT/TIG/MMA professional combo welder, capable of welding / cutting alloy, mild steel, weld steel, stainless steel, copper, and cast iron. Withstand extensive use in rugged industrial and construction environments. It is perfect for any home project too.
Special Notice: For overload concerns in industrial scenarios, this model is no plugs included.
Advanced IGBT Technology
Suitable Cutting Thickness
Easy Control Panel & 3 In 1
Safety & Overheat Protection
Compact and Portable
Tough Equipment & Tools, Pay Less
VEVOR is a leading brand that specializes in equipment and tools. Along with thousands of motivated employees, VEVOR is dedicated to providing our customers with tough equipment & tools at incredibly low prices. Today, VEVOR's products are sold in more than 200 countries and regions with 10 million plus members worldwide.
Why Choose VEVOR?
Premium Tough Quality
Incredibly Low Prices
Fast & Secure Delivery
30-Day Free Returns
24/7 Attentive Service
Key Features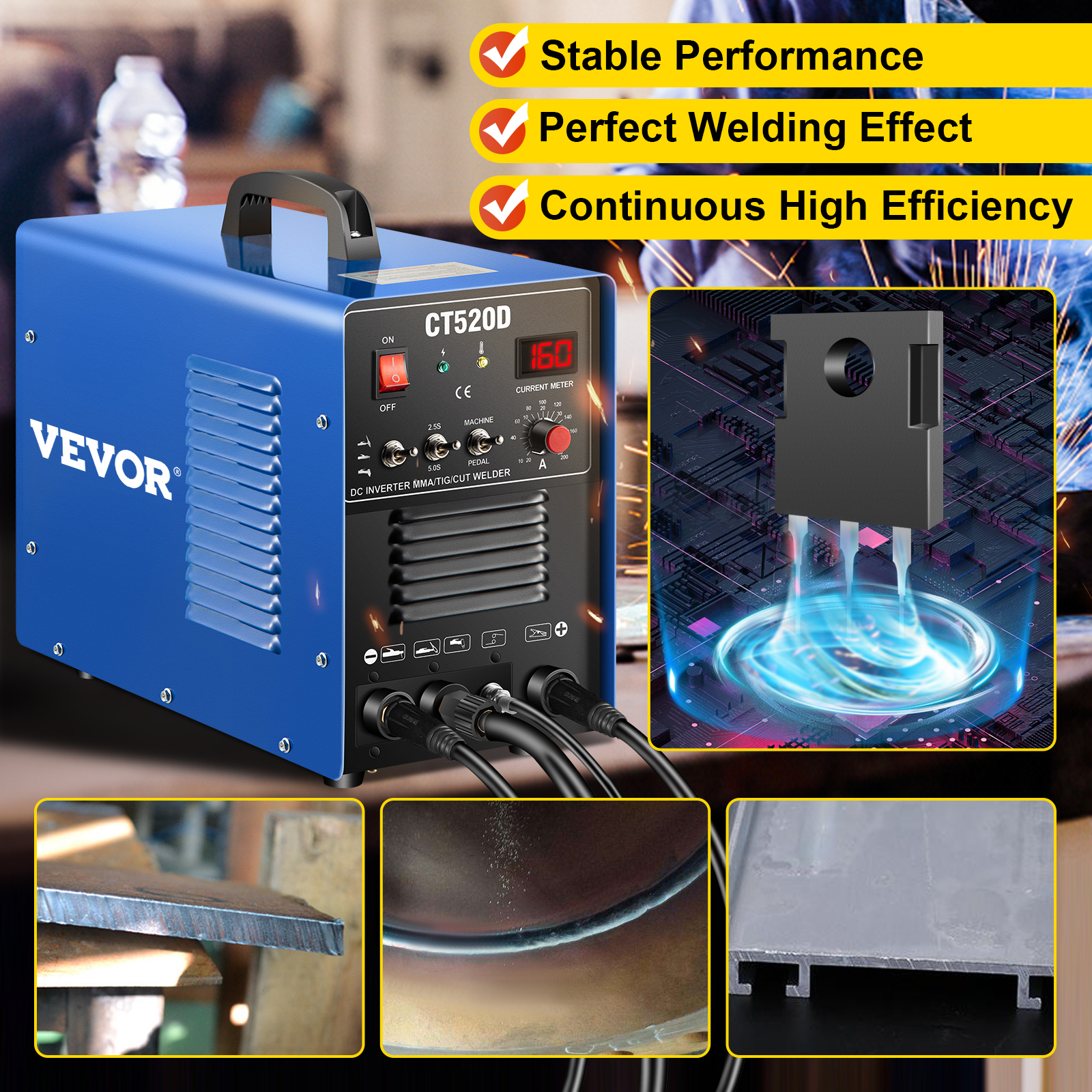 IGBT Inverter
The IGBT in inverter technology of this 3 in 1 welder has the characteristics of stable arc, small splash, anti-interference, firm thrust, and stable performance. It is simple and easy to operate, which is very suitable for beginners and professionals.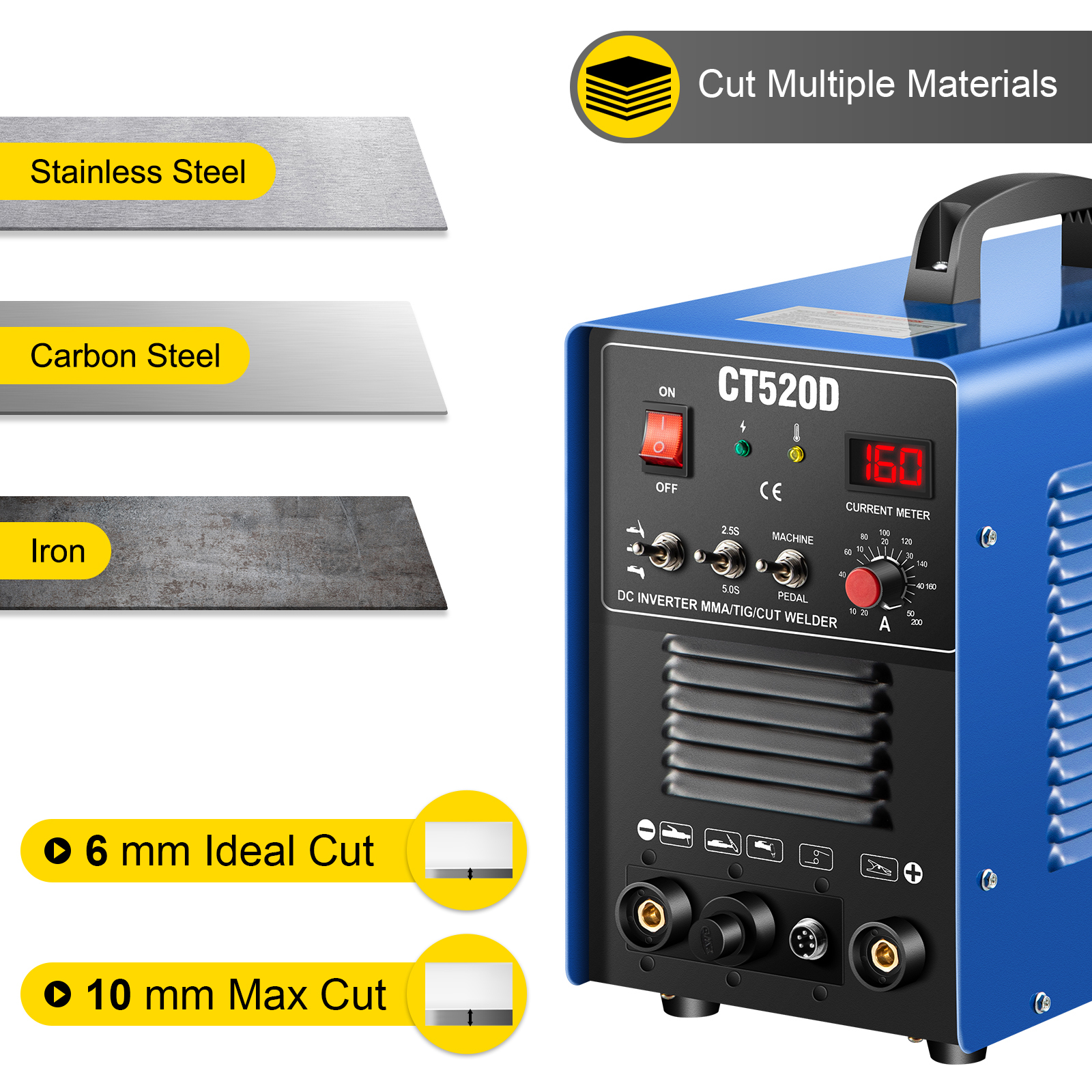 Cutting Thickness
Using arc-ignited cutting technology, the cutting effect is very ideal and no matter the material is rough, rusty, greasy, dirty, spray paint, etc., the work can be completed easily and quickly. The ideal cutting thickness: 6 mm; the maximum cutting thickness: 10 mm.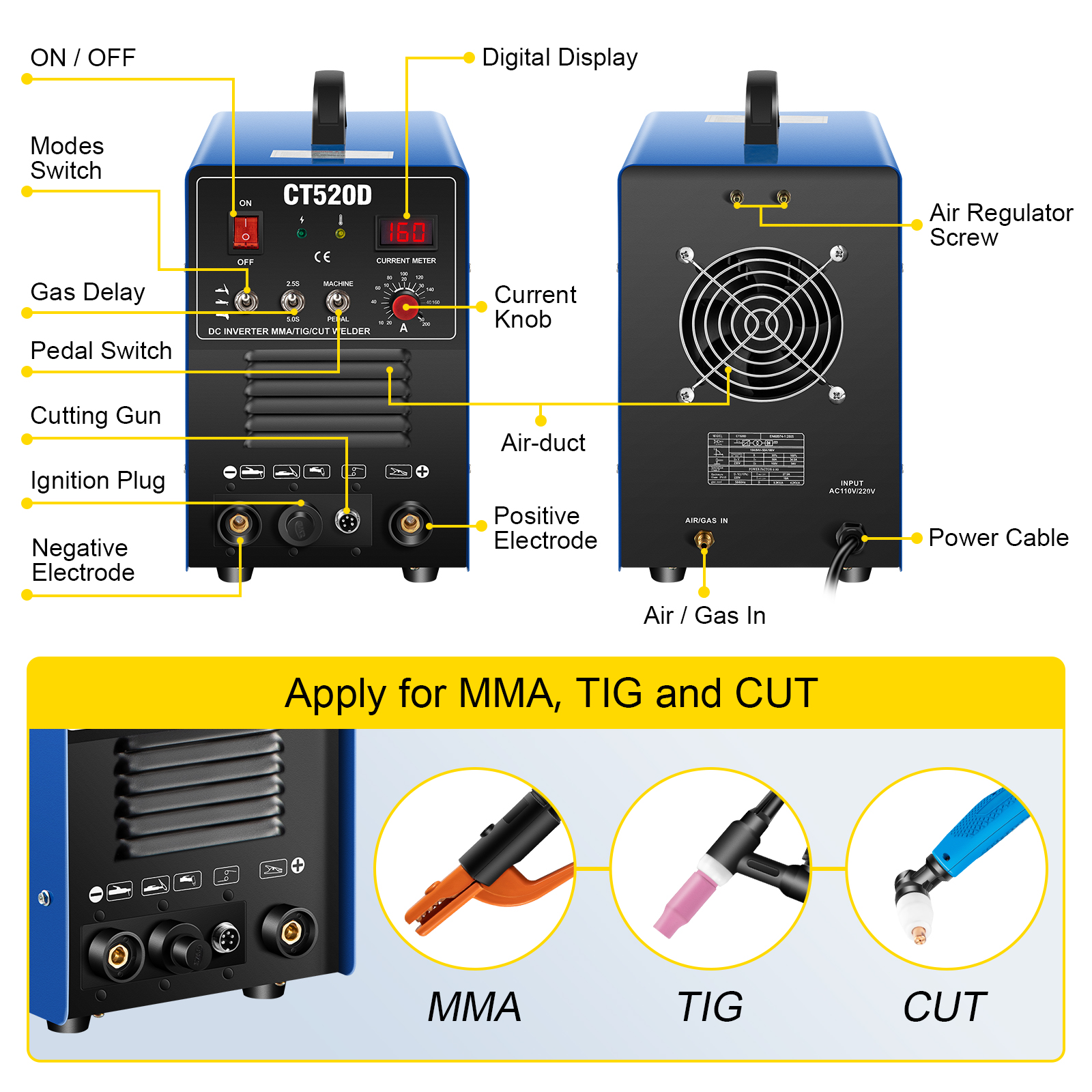 3 IN 1 Welder
The panel of the welder is straightforward and easier to operate. Three modes can be easily switched: CUT, MMA, TIG. The welding current, and voltage are adjustable. You can adjust according to your application and different thickness materials.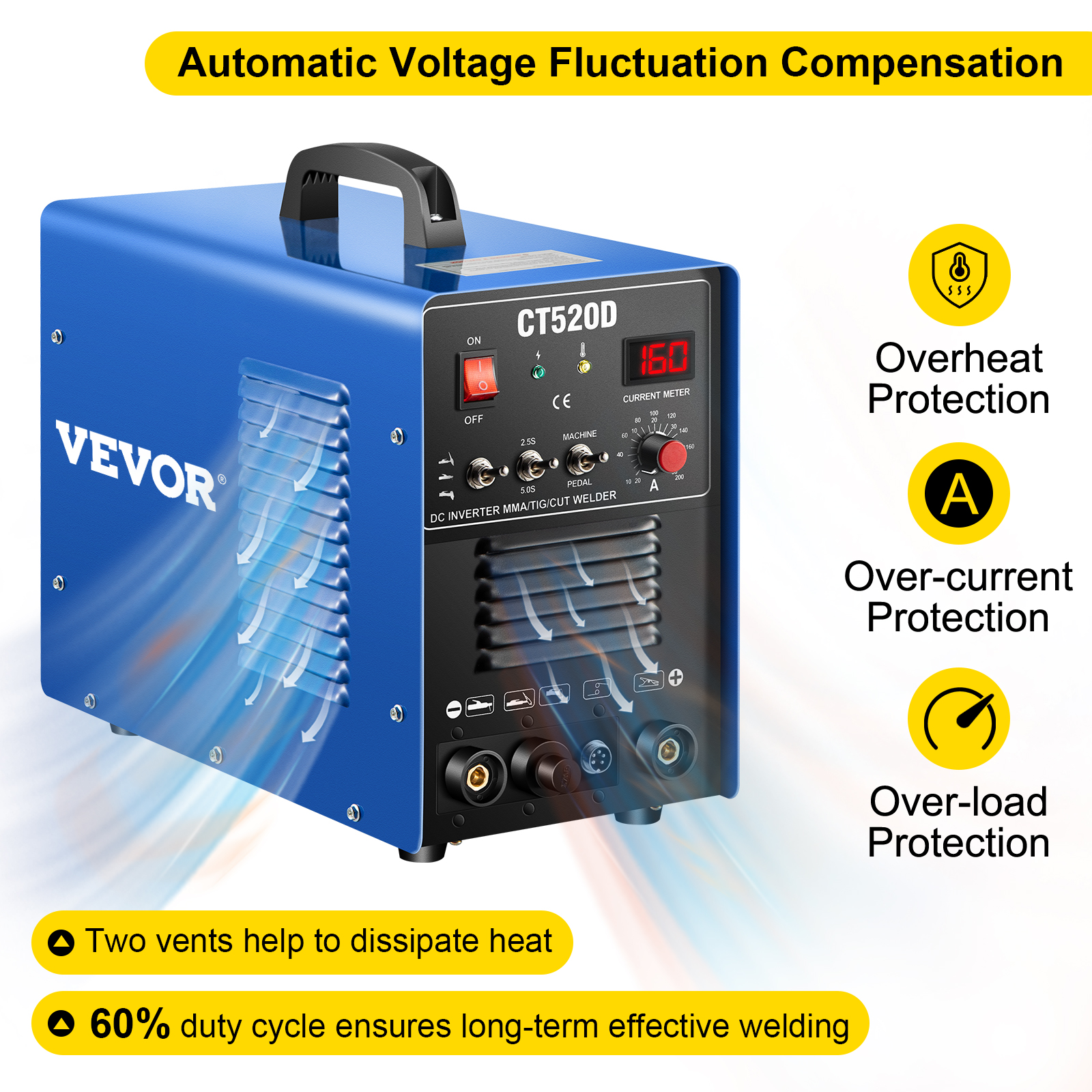 Built-in Protection Function
The welding machine has a safety function. The welding machine will automatically shut down when the temperature is too high, or the voltage and current exceed the range. The built-in fan cooling system reduces dust entering the machine and ensures practical long-term welding.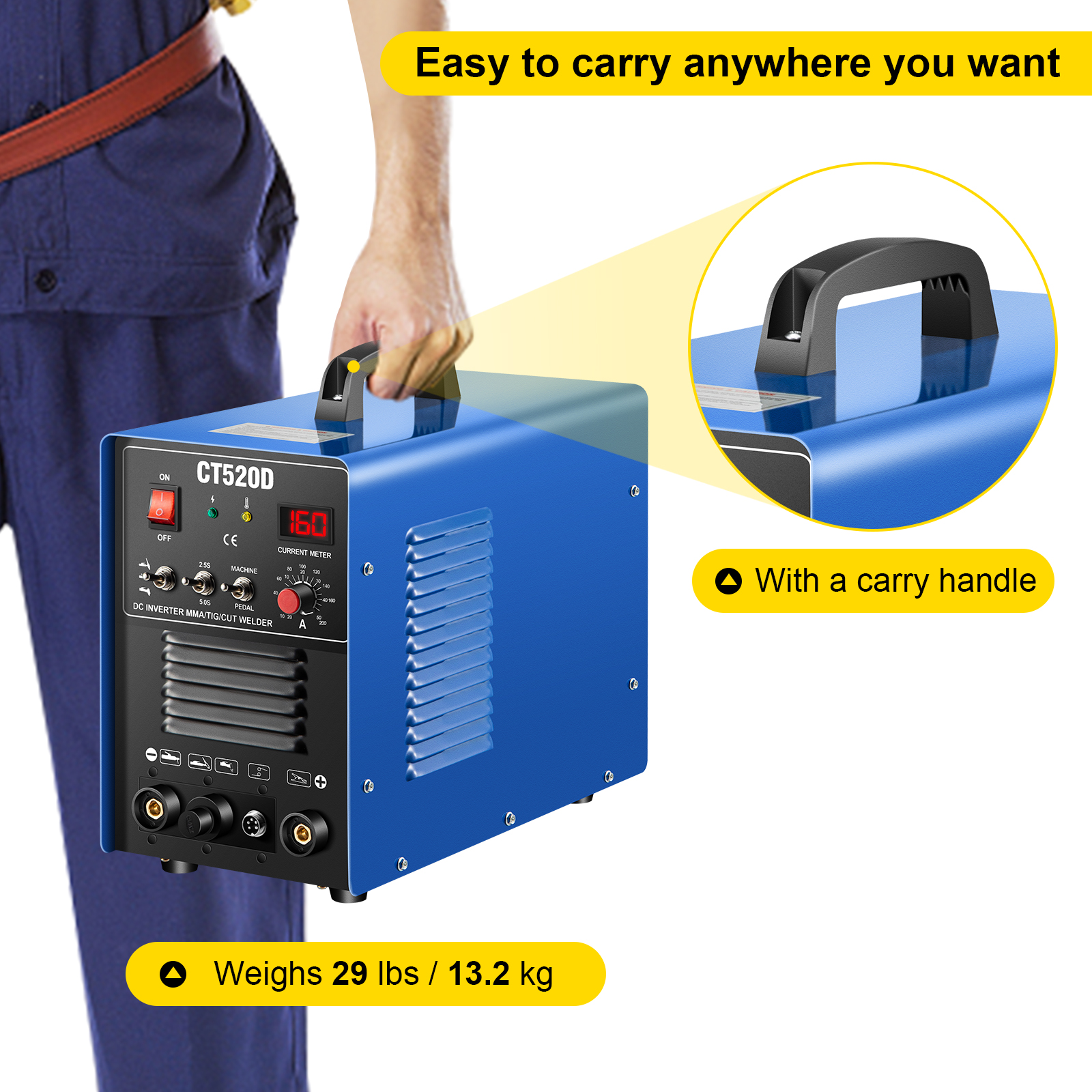 Mini Size and Dual Voltage
Only weighs 29 pounds, lightweight and compact design with a comfortable handle, you can effortlessly take it to the farthest place. Dual voltage (110V & 220V) to deal with fluctuate of power network.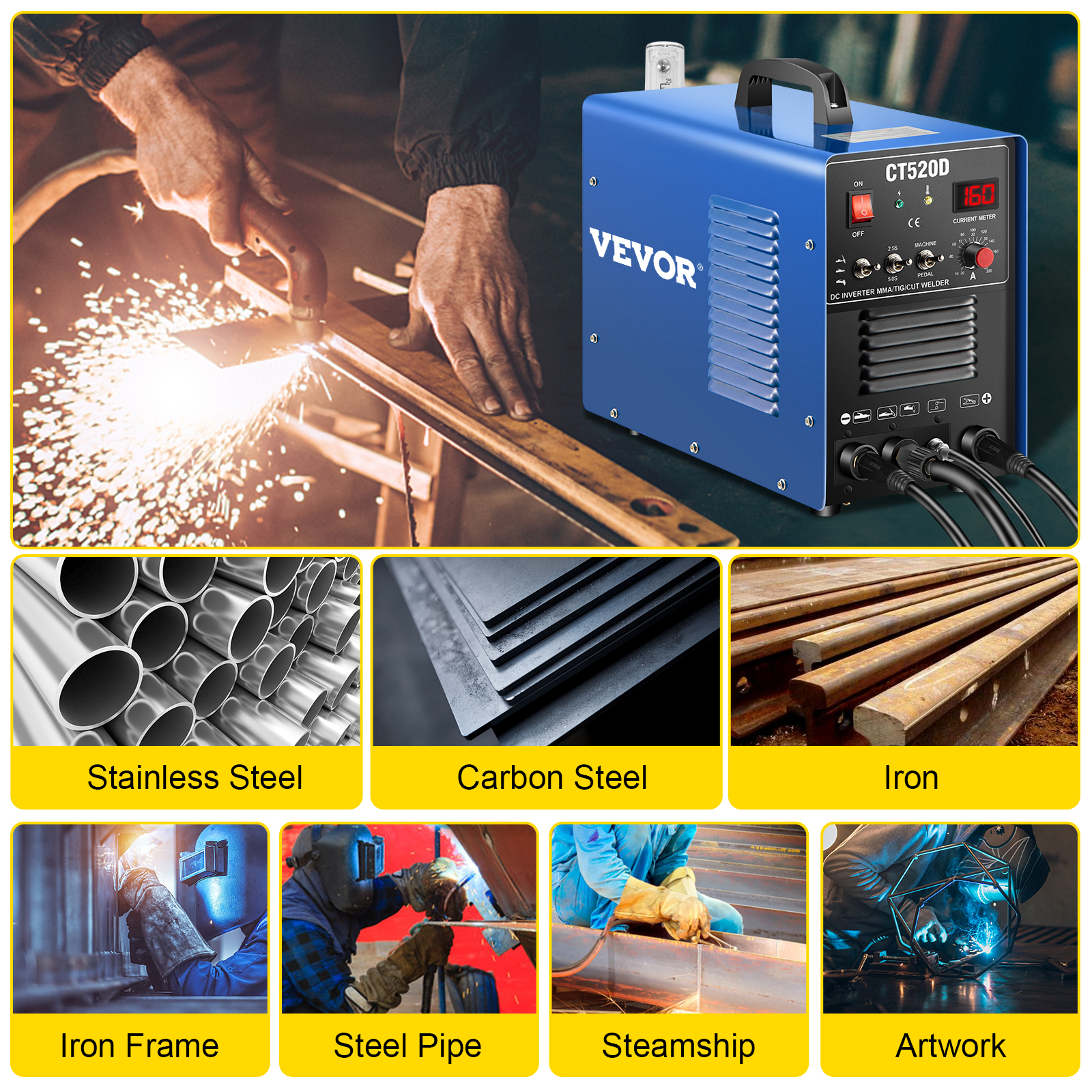 Wide Application
This welder is ideal for home, work, and DIY use. It is a must assistant of your work and life. Also is an excellent gift for your family and friends. Used for welding ordinary thin steel and iron, stairs, metal cages, square tubes, sheet metal, etc.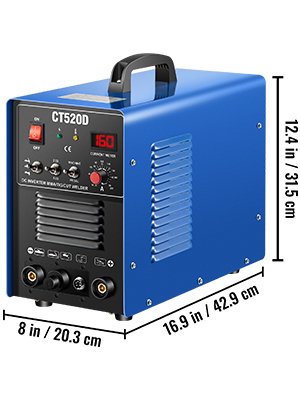 Specifications
Model: CT-520D
Welder Type: CUT/MMA/TIG
Voltage: 110V/220V, 1-PH,50/60Hz
Current Cut: 50A
Current Weld: 200A
Protection Degree: IP21S
Duty Cycle: 60%@50A, 100%@40A
Efficiency: 85%
Cutting Thickness: 0.24" / 6 mm
Max Cut Thickness: 0.4" / 10 mm
Gas Supply: Clean, Dry, Oil-free Argon Gas
Product Dimensions: 8 x 16.9 x 12.4 in / 20.3 x 42.9 x 31.5 cm
Product Weight: 29 lbs / 13.2 kg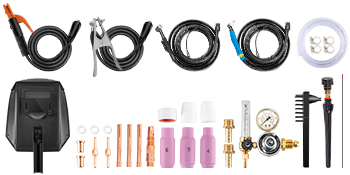 Package Content
1 x Welder Main Body
1 x TIG Torch
1 x Cutting Torch
1 x MMA Clamp & Cable
1 x Ground Clamp & Cable
1 x Set of Accessories
Features & Details
Advanced IGBT Technology: Our CT-520D adopts the most advanced IGBT inverter technology with excellent arc stability. Suitable for welding carbon steel, iron, stainless steel, aluminum and other metals.
Suitable Cutting Thickness: Effectively cut rough, painted and rusty surfaces, and produce the least slag. The maximum ideal cutting thickness: 6 mm; the maximum cutting thickness: 10 mm.
Easy Control Panel & 3 In 1: The inverter welder has CUT MMA TIG mode. The welding machine has knobs to support different current adjustment needs. The LCD digital display is clear and easy to read. With this multi-function welding machine, you will save time and money when meeting different needs.
Safety & Overheat Protection: The welding machine has a built-in protection device, and the engine will automatically shut down when overheated and overload; it is protected against splashing water, with a protection level of IP21, which has good water resistance.
Compact and Portable: Lightweight 29 pounds, with a comfortable handle, easy to install and store. Ideal for outdoor repairs, rusty metal, farm and road equipment, and maintenance and repairs.