---
SPECIFICATIONS
Wheels: 2 rubber wheels, 6in
Overall dimensions: 33.5 x 18.75 x 13in
Origin: Mainland China
Operating pressure: 60-125 PSI
Net weight: 40 lbs
Material: Steel
Hose length: 8.2 Ft (2.5 m)
Dimensions Tank: 12in x 20in
DIY Supplies: Metalworking
Certification: CE
Capacity: 10 Gallon
Brand: VEVOR
4 ceramic nozzles: 3/32in, 7/64in, 1/8in, 9/64in

Product Description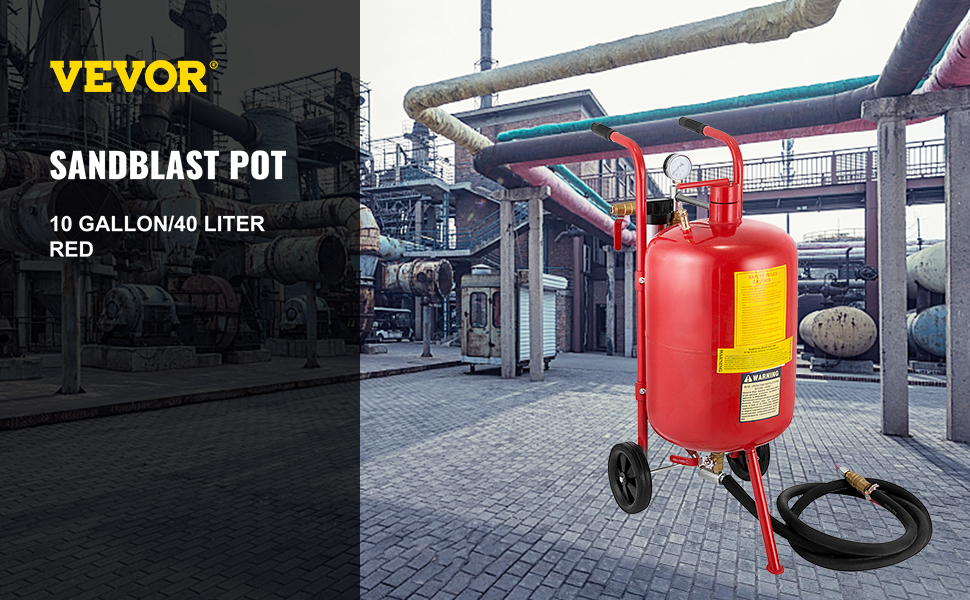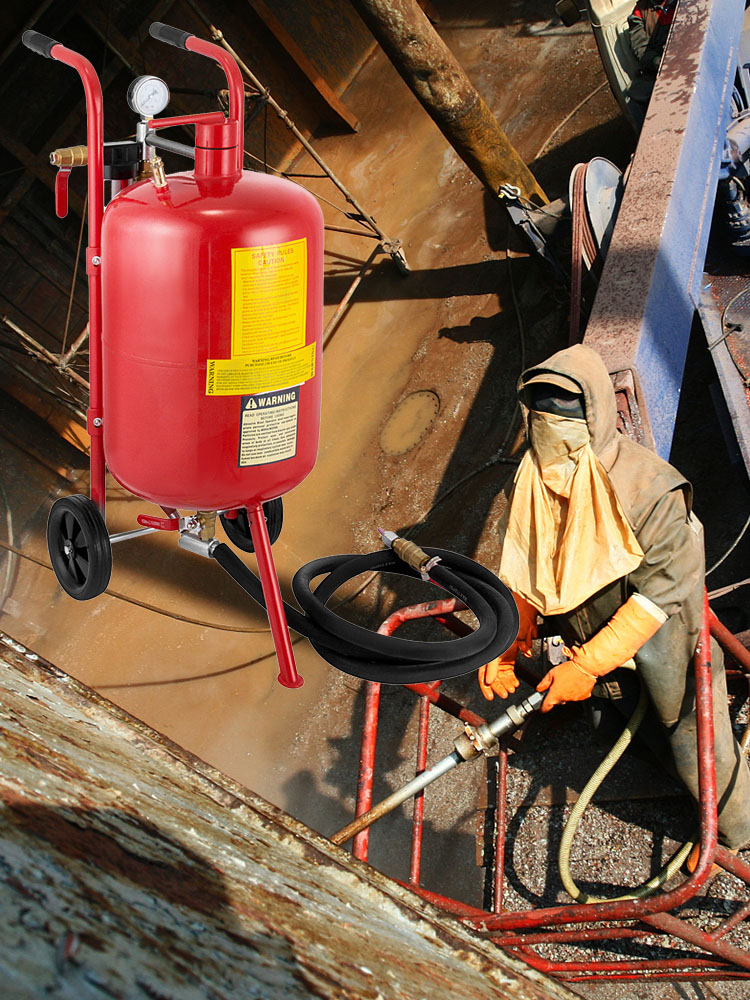 Sandblasting Pot 40L
The sandblasting pot is designed for removing rust, paint, and oxidation. This machine with a rubber wheel and 2.5 m hose allows more mobility and portability. It delivers 30% more blasting power than siphon units, and can improve the effect of sandblasting and work efficiency.
Steel Construction
Stable Performance
Flexible Movement
Ergonomic Design
Tough Equipment & Tools, Pay Less
VEVOR is a leading brand that specializes in equipment and tools. Along with thousands of motivated employees, VEVOR is dedicated to providing our customers with tough equipment & tools at incredibly low prices. Today, VEVOR's products are sold in more than 200 countries and regions with 10 million plus members worldwide.
Why Choose VEVOR?
Premium Tough Quality
Incredibly Low Prices
Fast & Secure Delivery
30-Day Free Returns
24/7 Attentive Service
Key Features
Heavy-Duty Construction
High duty steel plate structure, anti-rust and wear-resistant; A long of 2.5 m rubber blast hose lets you work flexibly.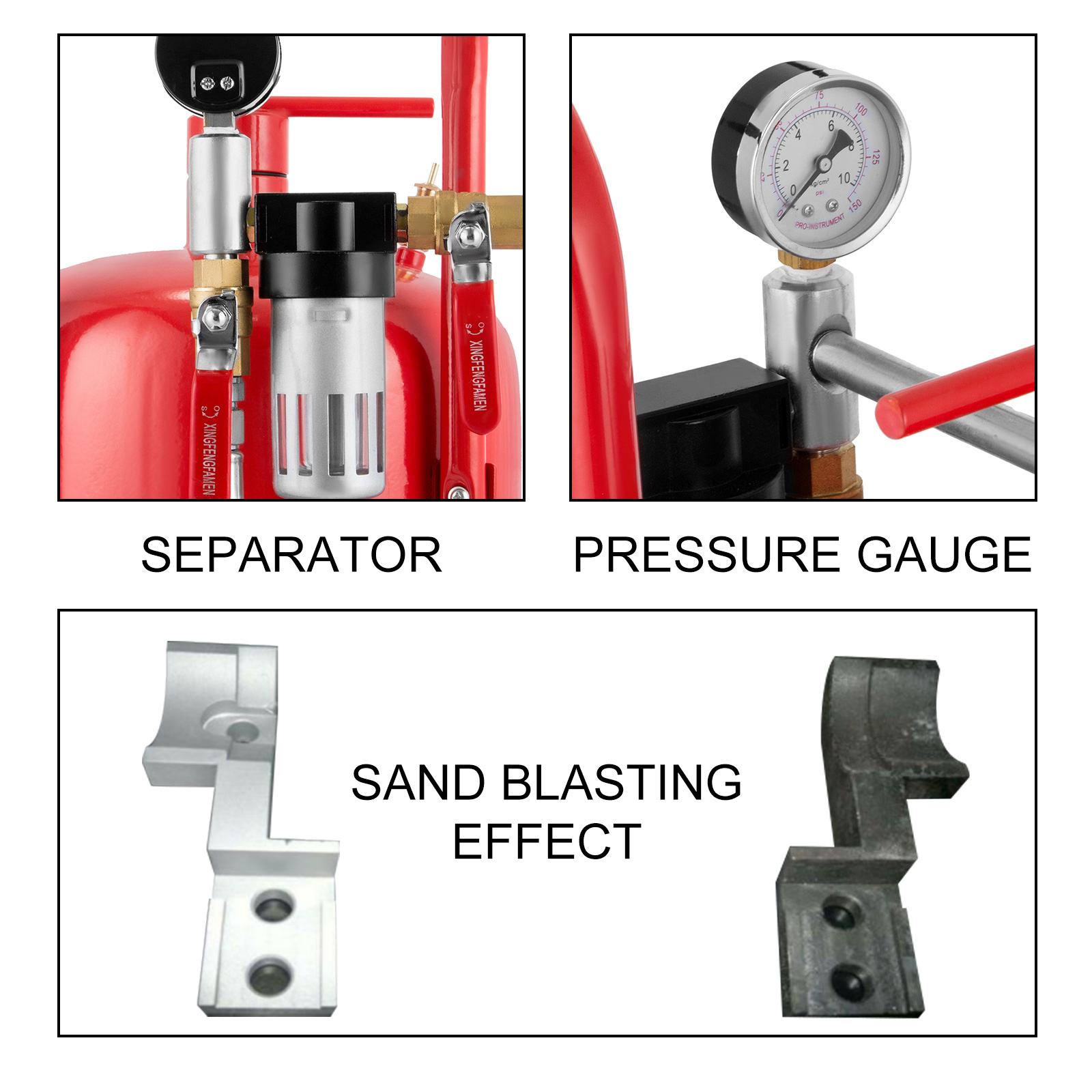 Efficient Sandblasting & 40L
Equipped with a precise pressure gauge, it is easy to observe barrel's air pressure in real-time.
Rubber Wheel
The bottom is equipped with two thickened wheels, and you can move the machine around.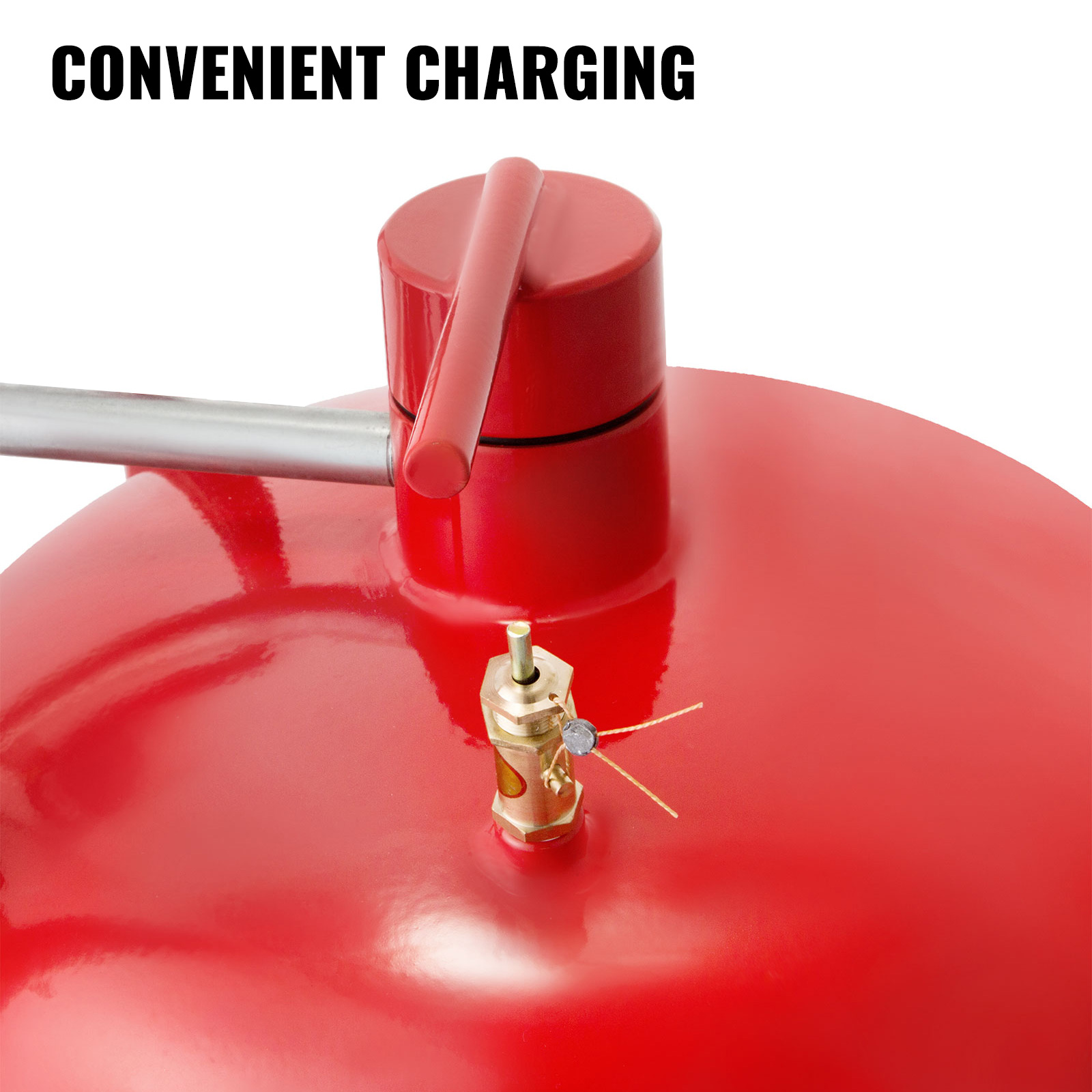 Convenient Charging
The charging valve increases the blasting speed, and makes the operation more efficient and easy, saving both time and labour.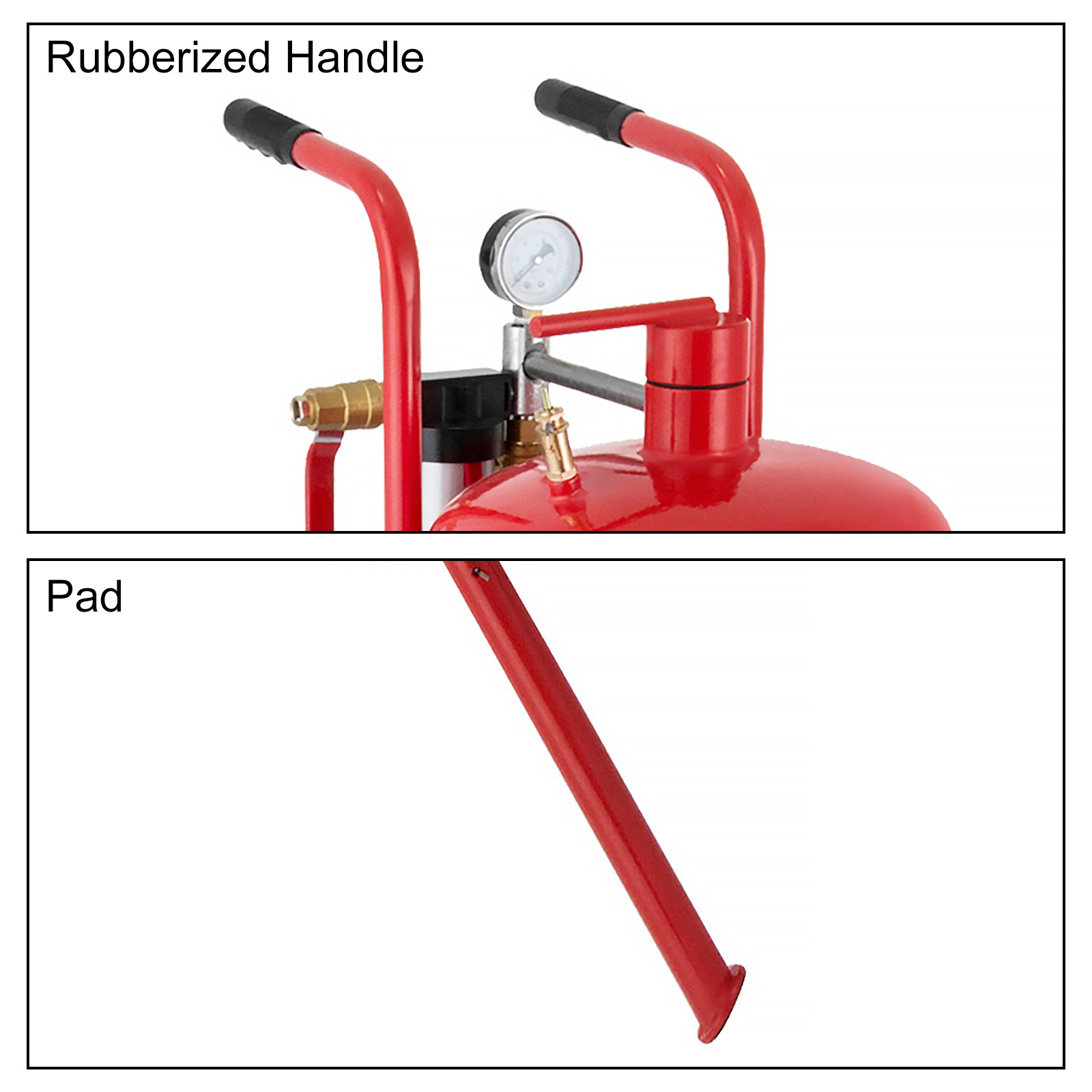 Considerate Details
Non-slip handrails conform to the ergonomic design concept, and fixed feet welded at the bottom improves the safety factor.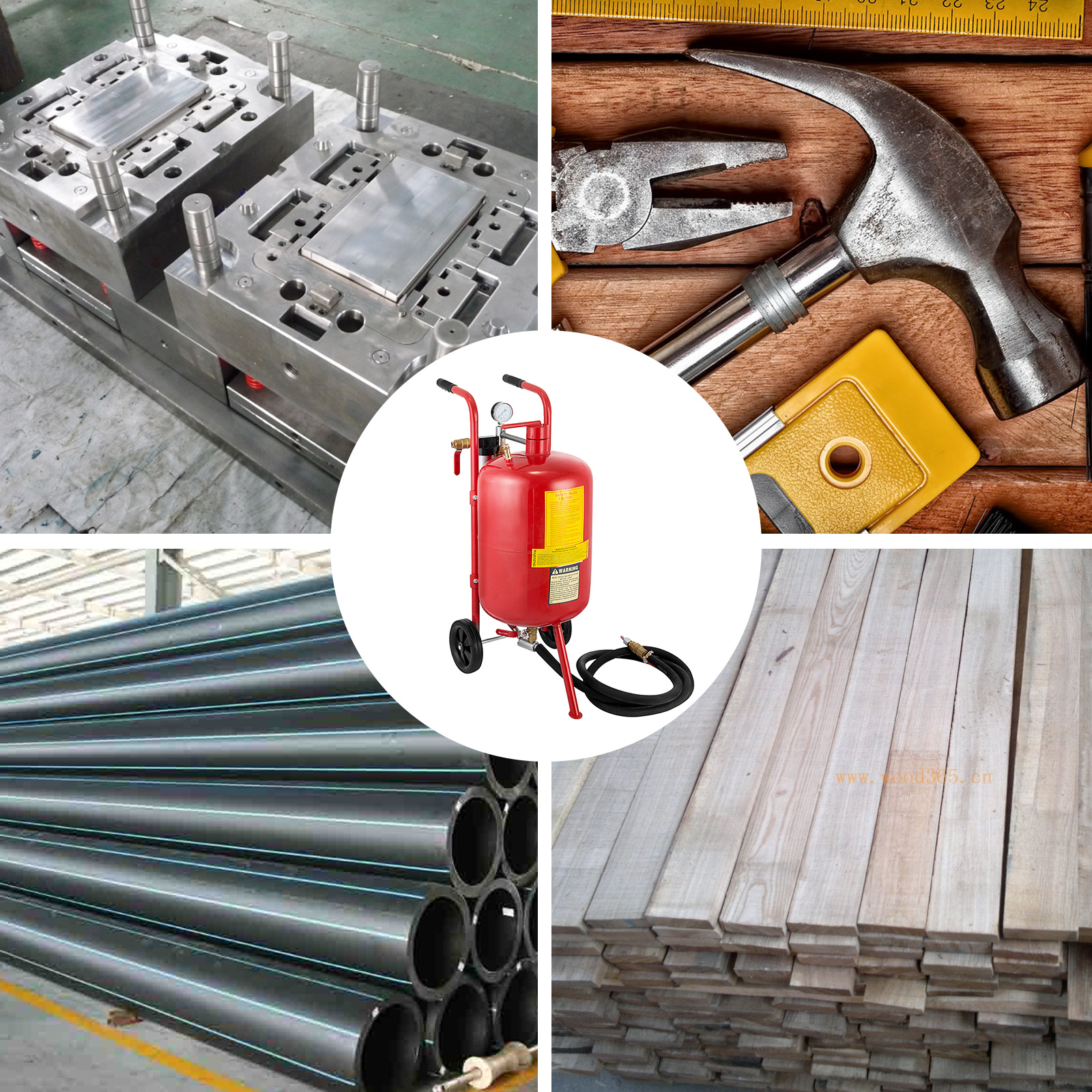 Versatile Application
Suitable for surface cleaning, stone carving, rust removal, and recondition of electromechanical equipment and steel numbers.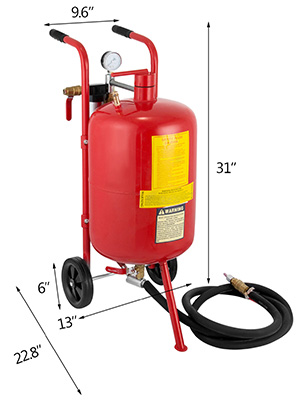 Specifications
Material: Steel
Capacity: 10 Gallon
Operating pressure: 60-125 PSI
Dimensions Tank: 12" x 20"
Hose length: 8.2 Ft (2.5 m)
Wheels: 2 rubber wheels, 6"
4 ceramic nozzles: 3/32", 7/64", 1/8", 9/64"
Overall dimensions: 33.5" x 18.75" x 13"
Net weight: 40 lbs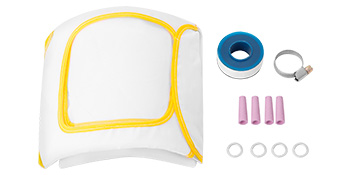 Package Content
4 x Ceramic Nozzles
1 x Pressure Gauge
1 x Plastic Hood
4 x Washer
1 x Clamp
1 x PTFE Tape
1 x Abrasive Hose
1 x English Manual
Features & Details
【STEEL CONSTRUCTION】- Made from quality steel plate after fine welding, this machine is robust, durable, pressure-resistant without deformation.
【STABLE PERFORMANCE】- Precise pressure gauge for checking air pressure. 75-litre tank size meets higher blasting requirements. Delivers 30% more blasting power than siphon units.
【FLEXIBLE MOVEMENT】- Fixed wheels for easy mobility, suitable for outdoor operation. A long of 2.5 m hose lets you get into hard-to-reach places while working.
【ERGONOMIC DESIGN】- Feeding valve for convenient charging; Non-slip handrail and fixed feet have a higher safety factor.
【WIDE APPLICATION】- Offering the perfect solution for removing oxidation, paint, and rust for electromechanical equipment and steel members.